The Benefits of Booking a Wedding Venue with Accommodation
Why You Should Choose a Wedding Venue with On-site Accommodation
When it comes to planning a wedding, one of the most significant decisions you will make is choosing a venue. While there are plenty of options available, booking a wedding venue with accommodation has always been the most popular. 
Around 27% of couples chose to marry in a hotel in 2022 however, hotels are not often exclusive-use meaning other guests will be present. What if you're looking for a venue that's a little bit more special? Here, our expert wedding team talk through some benefits of booking an exclusive-use wedding venue with accommodation.
One of the biggest advantages of having on-site accommodation is the convenience it offers. You won't have to worry about arranging transportation for your guests to and from the wedding venue since everyone will be staying on-site. This is especially helpful if you're hosting a destination wedding or if many of your guests are traveling from out of town.
Shortflatt Tower is situated in rural countryside outside of Newcastle upon Tyne, our on-site luxury self-catering cottages and rooms within the tower itself offer the perfect retreat for wedding guests.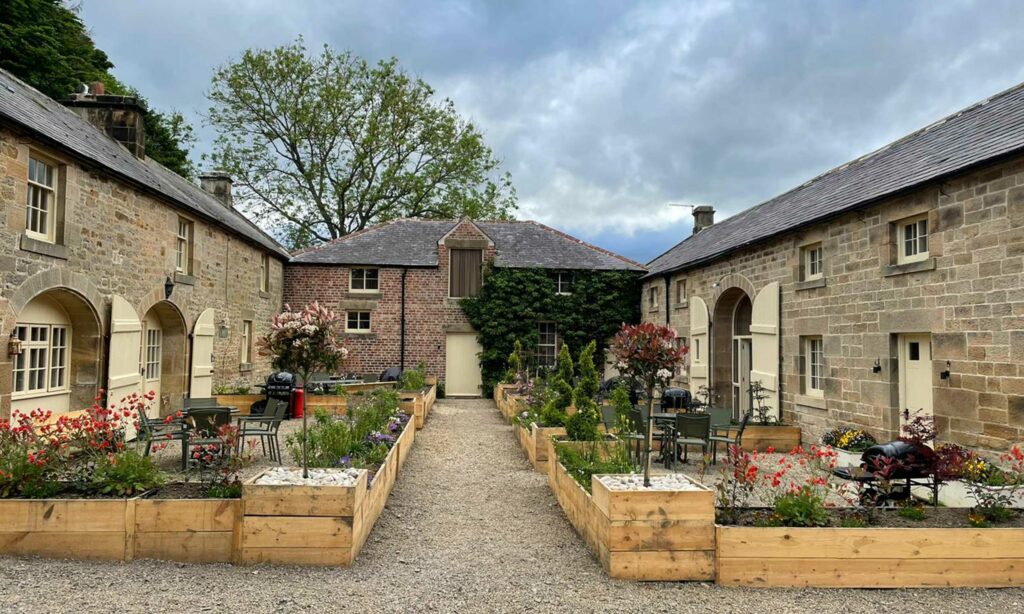 Luxury Self-Catering Cottage Courtyard at Shortflatt Tower,
Booking a wedding venue with accommodation can also be cost-effective, as many venues offer package deals that include both the event space and overnight accommodation. This can save you money compared to booking separate hotel rooms for your guests. Additionally, having everyone stay in the same place can make it easier to coordinate group activities and meals, which can also save you money in the long run.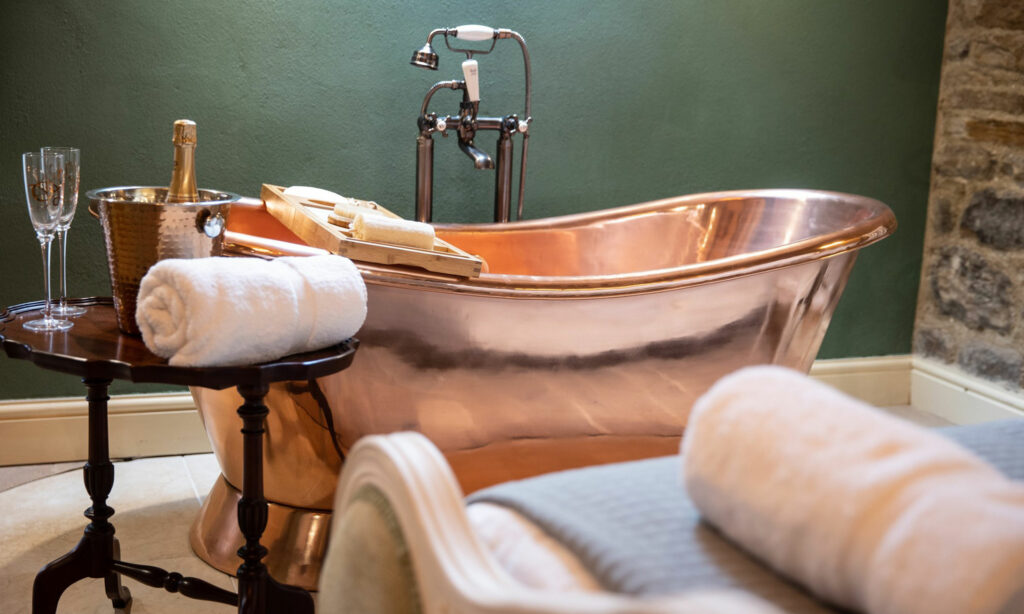 Wedding Accommodation with Roll-top Baths at Shortflatt Tower, Country House Wedding Venue
This is the best day of your life, who says you should stop?! Extend the celebrations beyond just the wedding day and into the night. At Shortflatt Tower, Fullerton Cottage is always made available the night before a wedding. Here, the Bridal Party can enjoy professional spa treatments in the dedicated spa room and relax in the hot tub – perfecting for squashing any last minute nerves! 
Depending on other bookings, we may have more cottages available the night before your wedding which is especially beneficial if you have guests who have travelled a long way. Please enquire with our team about additional cottages.
An exclusive-use wedding venue with accommodation also provides you with privacy. You and your guests will be the only ones staying on-site, which means you won't have to worry about sharing the space with strangers or other events. Many couples appreciate the more intimate and exclusive atmosphere this creates for their wedding night.
Planning a wedding can be stressful, but booking a wedding venue with accommodation can make the process much easier. Many venues offer wedding planning services, which means you can have a professional handle all the details, from catering to décor. Having everything in one place can also simplify logistics and reduce stress.
At Shortflatt Tower, our expert team of wedding coordinators are on-hand from the moment you enquire to the day your walk down the aisle. It's our mission to make your full wedding experience as stress-free as possible, so we've implemented a custom event planning app into which allows you full control over every aspect of your wedding. We will guide you through the process of planning your wedding, picking your menu choices and assigning your accommodation through the app, ensuring your wedding experience at Shortflatt Tower is remembered by all.
Create an Unforgettable Wedding Experience at Shortflatt Tower
In conclusion, booking a wedding venue with accommodation offers many benefits. If you're planning a wedding, consider choosing a venue that offers on-site accommodation to create an unforgettable experience for you and your guests.